By Lynn Ashby                                                                     29 Feb. 2016
THE PARKING LOT – I just witnessed a crime, so pay attention, because my words of wisdom could save you or your significant other a lot of trouble. I came to the grocery store to make my weekly haul – two six-packs, cheese and crackers — and returned to my car in this huge shopping center's parking lot. I noticed that a gray SUV, parked facing my car nose-to-nose, had its front passenger door open. As I was putting a grocery bag in the back seat of my car, that SUV's door slammed shut. Odd. I opened my door to get in, (am I going too fast for you?) when a small red car pulled up behind the SUV, the red car's passenger's door opened, shut, and the car sped off.
Just then a woman came up to the SUV. Because what I had just seen appeared strange, I inquired if she had had someone in her car. No. Here's the killer: like 99 percent of women who had just finished grocery shopping, she had placed her bags AND HER PURSE in her car, then had walked maybe 20 feet away to put her shopping cart in the return space. No woman takes her purse with her to dump a shopping cart. The thieves had no doubt patrolled the parking lot looking for a lone female pushing a cart. They followed her to her car, waited until she left it unattended to put up the cart, and pounced. Then they sped off. The theft took maybe 10 seconds, and I didn't get a look at anybody. I suggested she tell the grocery store manager, and maybe he and the other merchants in the shopping center would pressure the landlord to hire a cop.
Men don't have purses, for the most part, so we are not victims of this particular crime. On the other hand, my wallet was stolen as I was walking to my seat at a Houston Texan game. I didn't realize it till later, and when I got home I called MasterCard which promptly cancelled the card, then told me that, minutes after the pick, the thief had charged items in the stadium, filled up two cars just across the street and later had tried to buy items at stores around town, but were turned down because of the card's cancellation.
It could have been worse; I could have had Texan season tickets. Then it did get worse. The next day the pickpocket went to a branch of my bank, and took out $2,000 from my checking account and $8,000 more from my savings account (a payment as adviser to the Rick Perry Presidential campaign; it's a long story). The thief used my driver's license with his picture. The bank's video showed a nattily dressed black guy in a snappy vest. And he made those withdrawals without using my secret code (1234) or anything else. So much for security. The bank quietly replaced the stolen funds, and gave me no more information. I think they were embarrassed by the entire story, especially the part about the vest.
But it took literally months for me to contact stores, utility companies, my bail bondsman and others who used an automatic charge on my stolen and cancelled credit card. Just last week I got a testy letter from my burglar alarm company, Smash & Grab, Inc., saying they couldn't make their annual charge to a cancelled card. I thought maybe they should be responsible for my wallet theft, but it didn't fly. A week or so later, a local TV reporter did a story on my theft, complete with a shot of the pickpocket's picture. Two guards at the Brazos County Jail were watching the show and one guard said to the other, "Isn't that the same guy we've got in Cell 7?" It was. He was apparently arrested on a different charge, but I never heard any more about it.
Back to the car purse snatcher. Ladies and spouses, what should you do to prevent you from being victims? Obviously, don't leave your purse in the car when putting up your grocery cart, but that is hard to do. You might take the cart home with you and bring it back on your next trip. I thought maybe women should start carrying wallets instead of a purse, but you see how much good that did me. Place a sign in your car window: "Look up and smile at the drone." Get a personalized license plate reading: "ISIS-1."
All of these ideas are simply to shoo away would-be thieves who, in this case, are probably not members of AARP, but a bunch of teenaged males riding around mall parking lots looking for easy prey. It doesn't take much to make them move on to the next lot. A brief example: One of my brothers was an international banker in Madrid during a spat of kidnappings of western businessmen by terrorists who wanted money. A security expert came from the home office in New York City to lecture my brother and his colleagues on playing it safe. The guy said, "The kidnappers don't want you personally, they just want somebody like you. Make it harder on them by taking a different route to and from work at a different time. That sort of thing. The kidnapers want the easiest target available." So as the little red getaway car prowled the parking, its occupants no doubt passed by cars with a bumper sticker reading: "My Child Is An Honor Hit Man" or maybe, "Zombies Make Better Lovers." I like: "Ask Me About My Purse Bombs."
I am back at the grocery store the next day, I ran out of cheese, and I notice that the shopping center landlord has, indeed, hired security to patrol the massive parking lot. It's one elderly guy riding a golf cart. But it does have a tail-gunner.
Ashby is parked at ashby2@comcast.net

THE POST OFFICE – My next fortune is going to be made selling the U.S. Postal Service "Next Window Please" signs. The employees are working as hard as they can, giving a new meaning the term "going postal." But there is still a line, which gives me time to consider a new Coast Guard cutter, the Thad Cochran, the scandal that wasn't, 336 VA hospitals and, of course, this particular post office.
It all has to do with hypocrisy, again. Let's begin here. Everyone is always beating up on the postal service, and it's a staple for late night TV comedians. Actually, my postal carrier is the only federal employee I meet regularly, if you don't count my contact in the Federal Witness Protection Program. And I get very good home delivery service. Maybe I should print up bumper stickers reading: "The Alamo Was Defended By Government Workers," or: "Men on the Moon – Courtesy of Your U.S. Government" and see if that would cut down on the ridicule.
Congress constantly complains about the cost overruns and debt the USPS endures. Often they have thundered: "The post office should be run like a business!" That's exactly what the postmaster general is attempting to do. But every time he tries to cut costs (no Saturday service) or streamline operations, Congress says no. Example: Wal-Mart, one of the world's most successful operations, is closing hundreds of its underperforming branches. The, USPS is trying to do the same, but Congress objects. You don't have to look farther than Texas. An Inspector General's audit reviewed 33 of the 114 Postal Service relocation projects identified for three fiscal years – 2011, 2012 and 2013. One was the Southmore Station in Houston's Third Ward. The neighborhood, aided by U.S. Reps. Sheila Jackson Lee and Al Green, protested. That post office will stay open.
Next we have the much-maligned Veterans Affairs Department and its non-scandal. In 2014 it was reported that 44 veterans in the Phoenix area died while on a waiting list to see a VA doctor. The source of this figure was a statement made by Rep. Jeff Miller (R-Fla.), chairman of the House Committee on Veterans' Affairs: "It appears as though there could be as many as 40 veterans whose deaths could be related to delays in care." That number was seized by grandstanding politicians and radio talk show morons and the figure soon climbed to 44. But the Office of the Inspector General at the VA could find no such victims, although any group investigating itself is suspect. Then the Washington Post went looking for the scandal and found six possible – that's possible — cases. As the cliché goes, one is too many, but the story was overblown if not false.
This next story is a totally provable scandal: The VA could save $25 million a year if it closed outdated and unused facilities. That's not from some government watchdog group, it's from VA Secretary Robert McDonald. He has been pressing Congress for permission to dispose of 10 million square feet of space that the department doesn't use or need. Among those is a facility in Hot Springs, South Dakota, which once served Civil War veterans of the battles of Gettysburg and Antietam. We must suspect they are no longer on a waiting list. Then there is the former quartermaster's office in Minneapolis which has been vacant for years and fallen into disrepair. The VA says it has 336 buildings that are vacant or less than half-occupied. That $25 million a year to maintain those properties is money the VA would rather spend hiring 200 registered nurses or pay for nearly 150,000 primary care visits. Why can't the VA sell these obsolete and decaying structures? An honest answer from Florida Rep. Corrine Brown: "We support closing some of the VA facilities … just as long as you don't close any in Florida."
We have a $640-million Coast Guard cutter that was never requested and isn't needed, but is being built anyway. It seems the U.S. Coast Guard is replacing some of its aging fleet with top-of-the-line 418-feet cutters. The Coast Guard has had five built, and three more are under contract, but as for one more: "The Coast Guard has not identified a need for additional (cutters) at this time," the CG said. Wrong. Sen. Thad Cochran of Mississippi stuck an earmark in the defense bill allocating funds to build another cutter by Ingalls Shipbuilding at its facility in Pascagoula, Miss. Oddly enough, when Cochran was in a tough re-election campaign he received heaps of campaign funds from – you'll never guess – Ingalls Shipbuilding.
Mere chump change compared to other scandals. The Department of Defense is no longer a military organization. It is a jobs program. Every time the Pentagon tries to close a base, those guardians of our pocketbook in Congress and elsewhere cry that their dirigible base is all that stands between ISIS and America. Backers of Fort Campbell, Ky. even hired Washington lobbyists to protect their base. The Pentagon operates an enormous real property portfolio with over 562,000 buildings and structures on 523 bases, posts, camps, stations, yards and centers, many unused. The Army and Air Force alone have between 18 percent and 30 percent excess infrastructure, which they would like to get rid of some way. .
When it comes to base closing, Texas – with 20 military facilities — has actually gained thousands of relocated soldiers, and stands to benefit more than most states. That's traditional – Texas always gets its snout in the trough. Dr. Samuel Smith of the U.S. Army at Camp Charlotte, Texas, on July 4, 1879, wrote, "The whole state of Texas counts on the expenditure of money for Army supplies, and when a Congressman tackles the appropriations bill he joins issue with the whole state from Dan to Beersheba." As for my own post office, it's on the chopping block, but wait till the USPS hears from my Congressman.
Ashby is unneeded at ashby2@comcast.net
By Lynn Ashby                                                         15 Feb. 2016
THE ABACUS – Let's see. One point one million divided by 34 million, or is it the other way around? Oh, hi. I am figuring up how much money each of us will be billed by Gov. Greg Abbott and Attorney General Ken Paxton, our official state panderers, for their latest expensive grandstanding waste of our tax dollars. And it's high time we low-tax, low-spend conservatives rise up as one and shout: "You two give hypocrisy a bad name!"
It's all very complicated, but began in 2011 when the Texas legislators redrew the state's maps for the state Senate and House and U.S. Congress. Texas needed approval from the feds, and sued to get it. But Democrats charged the new boundaries favored the Republicans, i.e., gerrymandering. As state attorneys general, Abbott and later Paxton, defended the new district lines — and lost. The Dems were declared "prevailing parties" in the case, and their lawyers were awarded $1.1 million, billed to the taxpayers of Texas. The state appealed paying the legal fees, and now the U.S. Supreme has ruled for the Dems. That $1.1 million will be shared among three sets of attorneys. Wait. This just in. Lawyers in the case say the final figure owed by the state will climb once fees for the appeal process and Supreme Court briefings are tallied. So the meter is still running even though we got out of the cab.
            Does all this ring a bell? Sound familiar? Abbott and Paxton lose, we get stuck with the bills which reached a cool $13 million as of last December. If you voted for either Abbott or Paxton, please pay my share of these enormous legal fees for which we are getting nothing in return but more bills. Actually, in Paxton's case, the taxpayers of Collin County are paying an additional $100,000 to prosecute our attorney general on felony fraud charges.
Wait! Another case. A Harris County Grand Jury has refused to indict Planned Parenthood for that video tape fiasco about selling baby parts, and has instead indicted the two tricksters who tried to ensnare Planned Parenthood. The stingers were stung. Nevertheless, Abbott and Paxton say they will continue with their attempts to indict the organization – at our expense. When will these taxpayers' friends and watchdogs of the state treasury stop wasting our money?
In the heat of this latest million-dollar dud lies the undeniable fact that Texas Congressional lines are terribly gerrymandered to favor one party – guess which one? Don't take my word for it. None other than Abbott, then our attorney general, said in a court brief, he wrote: "In 2011, both houses of the Texas Legislature were controlled by large Republican majorities, and their redistricting decisions were designed to increase the Republican Party's electoral prospects at the expense of the Democrats." That's not a smoking gun, that's an H bomb (H for hypocrite). He added that this tactic is still constitutional, despite "incidental effects on minority voters." If "incidental effects" means "your vote doesn't count," then he's right.
How bad is Texas gerrymandering? In an effort to dilute the liberal vote in Travis County, it is divided into five different Congressional districts, including one that runs from Austin to Houston. Even outside studies find that Texas has some ridiculously gerrymandered districts. Each Congressional district in Texas has an estimated population of 698,488 people. However, using computerized maps, Democratic voters are bunched into a few districts and dilutes the rest. That gives the GOP a thumb on the scales. Both Buzzfeed and the Washington Post have branded two Texas Congressional district as among the worst gerrymandered areas in the entire nation: One bunches together the liberal parts of San Antonio and Austin, the other is Congressional District 33 which connects liberal areas of Fort Worth.
While Texas may be worse than most, some other states do the same. Estimates find only 15 of the 435 House seats are considered truly competitive this year. One of the worst examples was in New York where, in the Republican-controlled Senate, Sen. Guy Velella, a Bronx Republican, managed to redraw the house of a former challenger out of his district. Alas, Sen. Velella lost his seat after 18 years, but only when he was convicted of bribery.
In the on-going, and expensive battle over redistricting in Texas, some knotty questions arise. Do you count prisoners and college students who come from elsewhere? This last case has been fought over for years in Waller County, which contains the mostly black enrollment of Prairie View A&M. In any event, Texans are real wussies when it comes to redistricting, unlike the people of Arizona. In 2000, they used the state's voter-initiative process to amend the state constitution, largely stripping redistricting power from the Legislature and giving it instead to a five-member independent commission. It's worked so beautifully that the state's unhappy legislators have sued. When will Texans be that brave?
All this time, you have been wondering, how much is one point one million divided by 34 million? No, actually you have wondering why this shell game is called gerrymandering. The term comes from Elbridge Gerry, a signer of the Declaration of Independence (the only signer to be buried in Washington D.C.), a drafter of the Constitution, House member, governor and vice president under James Madison. As governor of Massachusetts in 1812, he signed into law a state legislative map that included a strangely shaped district obviously drawn to benefit his party. A cartoonist for the The Boston Gazette added a head, wings and claws to make it look like a salamander. An opposition newspaper editor named Benjamin Russell said, since the monster was hatched by Gerry, "Better say a gerry-mander." Gerry's name was pronounced with a hard "G" like in gag or grasp, but the term has been softened to be pronounced "jerrymander."
The next U.S. Census will give Texas at least two more Congressional seats. Get out your checkbook.
Ashby borders on ashby2@comcast.net
Situated near pristine beaches in the Riviera Nayarit, just north of Puerto Vallarta, Mexico, The St. Regis Punta Mita Resort boasts an exquisite and safe retreat for guests of all ages. This year, vacationers can attend the fourth annual Punta Mita Beach Festival taking place July 7-10. Hosted by The St. Regis Punta Mita Resort in conjunction with Punta Mita Expeditions, DINE, the master developer of Punta Mita Resort, and the Riviera Nayarit Convention & Visitors Bureau, the four day extravaganza combines surfing, snorkeling, scuba diving, stand-up paddle, yoga, sandcastle building for the kids and exquisite cuisine prepared by renowned guest chefs at one of the most beautiful and sought-after destinations in the world.
The celebratory summer event and other surf and sand activities offered year-round take full advantage of the renowned beachfront resort's unparalleled destination.
By Lynn Ashby                                                8 Feb. 2016
THE TV – "I am running against the Establishment." "If elected, I shall take on the Establishment." Can we stand one more? "This is an anti-establishment campaign." No matter which party, gender, age or silly promise, all the presidential candidates are running against the Establishment. But who or what is this awful creature that seems to personify evil? Many of you — OK, maybe someone was going to – have asked this question so, as your intrepid reporter, I set out to find this wart on the body politic.
My first stop was the campaign HQ of Sen. Bernie Sanders. "Senator, you have made a big deal out of running against the Establishment. So what, exactly is the Establishment?" He set fire to a stack of stock certificates and turned to me. "IT'S WHAT'S WRONG WITH AMERICA!" he shouted, waving his hands wildly in the air. I suggested, since I was standing three feet away from him, he didn't have to shout. He nodded, and continued. "The Establishment are the billionaires, the Wall Street typhoons, the top one point one, one, one percent who own everything, and those members of Congress who have been there so long they've lost touch with middle-class America!" I replied that he had been in Congress 26 years. So how is he an outsider? "Because I represent the curmudgeon vote, and nobody likes a curmudgeon. Hey, you want a free college education?"
I found Donald Trump lunching at the New York Billionaires Club. He paused for a moment from shooting out the window at pedestrians on Fifth Avenue. "The Establishment is made up of the very rich, who tell everyone how rich they are. Their egos are huge! They never mention how their airlines went bankrupt, how their casinos in Atlantic City went under, or how they lost millions trying to buy the Plaza Hotel. They are arrogant, have weird hair and probably have been married at least three times." I pointed out that it seemed Trump was describing himself. "You sound just like that ugly lightweight, Megan Kelly, the mouthpiece for the Establishment. Just look how she treats me in debates. She actually asks me questions. I don't have to put up with that kind of insult. Now bring around my limo. It's huge!"
My next stop was the senate office of Sen. Ted Cruz. I asked the secretary if I could see him. "Who? Cruz? It rings a bell. Hey, Gloria, do we have someone on the staff named Cruz? No? Sorry, Sir, but no one here is by that name." I explained that he was the junior senator from Texas. She replied that there had been no junior senator from Texas since Tom DeLay was indicted. I showed her a picture of Cruz. "Oh, him. I thought he was a member of the Canadian Parliament. He drops by the Senate clerk's office every now and then to collect his paycheck. Last we heard of him he was visiting Iowa or maybe South Carolina. Something to do with primates."
It's funny how "Establishment" has become a dirty word when it used to be a coveted term meaning long-standing, dependable. You know how businesses proudly proclaim their longevity. Brooks Brothers may hold the record: "Established 1818." In Texas, we are sort of new at this. Any Houston building that gets a second coat of paint qualifies for a historical plague, so we see: "Established 2010." Yet now the Establishment is the enemy of all decent candidates, as it represents the old guard, the entrenched status quo. Odd how meanings or acceptance of words change, as I was telling the gays, coloreds and Redskins.
My investigation led me to an all-night dinner on a country road outside Broken Nose, Nevada. A familiar face was working the counter – tall, white hair, big smile. "What can I do for you, prospective voter for the most experienced candidate for President?" I explained that I was looking for the Establishment. "You won't find it here. My — that is, our — campaign is anti-Establishment. We are outsiders. Excuse me for a minute. Hey, Hillary, are those eggs with hash browns ready? Booth 16 is still undecided."
Not only the candidates but their endorsers are railing against the Establishment, so I sought out Sarah Palin for a brilliant insight. "Golly gee," she said while coloring inside the lines. "The Establishmenters are in the wrong side of hysterics, while the terrorists are polluting the growth rate. As the great George W. Bush said, 'Fool me twice and you've fooled me more than once.' Gotcha!" I sought out another important endorser, Phil Robertson, better known as the head of the Duck Dynasty clan, but he didn't have a phone – or electricity or indoor plumbing, for that matter.
Palin's mention of Bush immediately led me to the latest member of that family to hold office, Texas Land Commissioner George P. Bush. Unfortunately, he hadn't been seen in his Austin office since Thanksgiving. "You might try his daddy's campaign headquarters," I was told. There, instead, I found Jeb! He stopped hanging chads, and said, "The Establishment is America's enemy, and ours, too. It is made up of families who have formed a dynasty of officeholders. Fathers and sons, uncles and nephews, generation after generation, like the Santorums and the Kasiches. People are looking for fresh new faces like the Clintons and Bushes.
Moving on, I woke up Ben Carson and asked my question. "That's Doctor Ben Carson," he yawned. "I am so anti-Establishment that I am anti-government, anti-Congress and anti-experience. Who needs all that knowledge about forum relations, budgets and Yellowstone?" Then he nodded off. Carly Fiorina told me she was running against Washington to the extent, that, if elected, she planned to stay at Hewlett-Packard. "They love me there," she said. I finally found Ted Cruz and asked if his secret dual citizenship with Canada until found out still allowed him to become President. He replied, "Oui."
Ashby is established at ashby2@comcast.net
By Lynn Ashby                                                        1 Feb. 2016
HERMANN PARK –It is a busy Saturday afternoon, with joggers, walkers, zoo visitors. Sunny, dry, a gentle breeze ushering in eau de Pasadena. This is the perfect place to read a newspaper article to a local businessman. The newspaper is the Boston Sunday Herald, specifically the edition of Sept, 6, 1863. This story reports "a well authenticated rumor that Gen. Lee has resigned." Even back then the press got it wrong. The local businessman is Richard W. Dowling, better known as Dicky He was once honored in Houston and all of Texas as a savior, but now, like the boll weevil, he's just lookin' fer a home. Actually, I can't even find his statue.
We start with the newspaper, which has turned orange and brittle, yet legible. This from New Orleans, which is in Union hands: Word of a massive military buildup, with 22 warships carrying supplies plus 5,000 infantry, artillery and cavalry, under the command of Gen. William B. Franklin. "The destination, which has been given out, is Mobile; but the rebel sympathizers, however, are quite sure the expedition is going to Texas." The spies think the exact point is the mouth of the Rio Grande. Bad intelligence. The armada is going to Texas, all right, but is actually headed to Sabine Pass which separates Texas from Louisiana. Capture the pass, take the little fort guarding it, then capture Beaumont, only 18 miles away, with its rail line connecting Texas to the eastern Confederacy. March down I-10 to Houston with its rail lines west into the rest of Texas, then swiftly to Galveston and its port. This will be easy, because most able-bodied white male Texans have gone east to fight. Indeed, Texas has sent the highest proportion of its men to the war of any state on either side. That leaves Lt. Dicky Dowling. Age 26.
He had run saloons in New Orleans before moving to Houston. A red-headed jovial Irishman, Dowling knew everybody and everybody knew and liked him. When the war broke out, he recruited fellow Irishmen from his various bars, who became the Davis Guards, Company F of the First Texas Heavy Artillery Regiment. They were sent to guard a backwater mud-and-log fort named Fort Sabine at Sabine Pass, wherever that was. Once there, they rowed out into the shallow waters and stuck poles, painted white, into the bottom, then practiced hitting the poles with their artillery — six cannon: two 24 pounders and four 32 pounders.
On Sept 8, 1863, the Union armada steamed into the pass. Lt. Dowling and his 45 men waited patiently. Then the first two warships puffed by the painted poles. Boom! Then another and another. In quick order – stick with me — a shot from the third or fourth round hit the boiler of the Sachem, which exploded, killing and wounding many of the crew and leaving the gunboat without power in the channel. The following ship, the Arizona, backed up because it could not pass the Sachem, and withdrew.
The Clifton came on until a shot from the fort cut away its tiller rope at the range of a quarter of a mile – pretty good shooting. The gunboat couldn't steer and ran aground, where its crew continued to fire. Then a shot hit the boiler of the Clifton, sending steam and smoke through the vessel and forcing the sailors to abandon ship. The Granite City also turned back rather than face the accurate artillery, and that ended the battle. Dowling and his Irishmen had fired their cannon 107 times in 35 minutes, a rate of less than two minutes per shot, a fantastic rate. The Confederates captured 300 Union prisoners and two gunboats. Franklin and the army force turned back to New Orleans. Not a single defender had been scratched. It was the most lopsided battle of the Civil War, maybe ever.
What would have happened to Houston – and Texas — if the Union assault had succeeded? If the fall of other Southern cities is any clue, nothing good. Atlanta was burned to the ground. Richmond, the capital of the Confederacy, was burned, but not by the Yankees. To keep the Rebels' military supplies of artillery, vast amounts of shells, and other ordinance, from being captured, the fleeing Rebels set fire to warehouses, but the fire soon spread all over downtown Richmond. Fredericksburg, Va. was occupied and thoroughly looted. Columbia, South Carolina, was destroyed. Sherman's famed march through Georgia saw civilian homes burned, livestock slaughtered, rail lines ripped up. Sherman said he wanted to "make Georgia howl." Today they would be called war crimes. New Orleans was spared, but the city's women ignored or even insulted the occupiers, so their commander, Gen. Joe Hooker, ordered that all New Orleans women were to be treated as prostitutes – or hookers. It's a good story although the earliest known use of "hookers" as prostitutes dates to 1835, but it made the term more popular. In the words of British historian Alistair Cooke, "the South was not only defeated, it was destroyed." The song, "The Night They Drove Old Dixie Down" made popular by Joan Baez, was based on fact.
Dowling and his men were hailed as heroes, although, alas, he died in 1867 from yellow fever. His statue was raised in 1905 and moved twice. His sword has been stolen five times. Now there is pressure to put Dicky in some back lot or car pound, take his name off of a school and two streets – Dowling and Tuam, his birthplace in Ireland — because he fought for the Confederacy although I can find no record that he owned slaves. Douglas Brinkley, a noted author and professor of history at Rice University, says of this and other such movements, "They are allowed a 21st-century moment." I think he means we are judging our forefathers by today's standards. Wherever Dowling is now and wherever he winds up, his pedestal should read, "The Savior of Houston and Texas."
Ashby's pedestal reads ashby2@comcast.net
Indigenous Reef Provides Perfect Backdrop for 
One-Of-A-Kind Newlywed Experience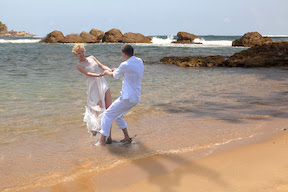 Here's a new one: Brides and grooms tying the knot may now opt for a post-wedding "Splash and Snorkel the Dress." Inspired by the trash the dress trend, the package allows newlyweds to participate in one last photography session after the wedding, as well as enjoy their first married activity together: trashing the dress!
The post-wedding activities begin as a local professional photographer captures the first moments of the new Mr. & Mrs. as they splash along the shore of the resort's cove-like protected beach, dressed in their gown and suit. After frolicking in the sand and sun, the couple can say "adios" to the photographer and slip into their swimwear apparel to snorkel in the resort's eco-friendly artificial reef featuring more than 300 varieties of fish. To complete the experience, the couple receives a plush robe, bottle of champagne and hors d'oeuvres upon return to their room.
The Condado Plaza Hilton is a stunning location for weddings in Puerto Rico with 41,000 square feet of indoor and outdoor event space. From the hotel's Ocean Gardens with crashing waves of the Atlantic surf in the background to the Royal Ballroom, venues can accommodate everything from an intimate gathering of 10 guests to a grand celebration of up to 1,100 guests. The hotel's professional wedding planners and award-winning culinary team are also on hand to personalize and coordinate every last detail.
The "Splash and Snorkel the Dress" package starts from US$413* per night, including accommodations, a bottle of champagne, hors d'oeuvres, two-hour photography session and complimentary snorkeling equipment rental for two. Photo prints and video, as well as underwater pictures, are available for purchase for an additional cost. To book the package, please visit https://goo.gl/ex9Le9. For more weddings information at The Condado Plaza Hilton, please visit www.condadoplaza.com or call +1 787-721-1000.
*Taxes and resort fees are not included. Other restrictions apply.
-###-